Details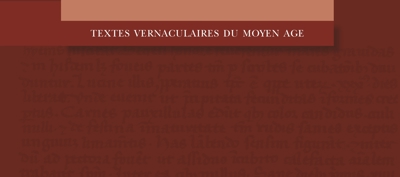 View online content
List of Publications
ISSN 1782-6233
Method of peer review
single-blind undertaken by a specialist member of the Board or an external specialist
Keywords
Medieval Literature, Romance Literature, Middle English Literature, Vernacular Literature, Literature in Translation, French Literature, English Literature, Literary history and criticism, Commented editions, Manuscript studies, Christian Literature
Accepted Language(s):
English, French
Accepts Contributions in Open Access

ABOUT
Founded in 2004, Textes Vernaculaires du Moyen Âge is an editorial enterprise designed to meet the needs of scholars and students alike. Its main focus is on texts which have hitherto failed to benefit from adequate editorial treatment and which, as a consequence, remain unknown or imperfectly known to the academic community. All aspects of medieval vernacular literary activity form part of its brief: literary texts, historical writings, including chronicles, devotional treatises, sermons, scientific treatises, and the like. The series also welcomes editions of better-known texts accompanied by modern translations, designed to meet the needs of scholars and students who may be unfamiliar with the language of the original texts.
Each edition comprises a description of the source text or texts, manuscript or early printed book, accompanied by explanatory notes and a comprehensive glossary. All submissions are subject to blind or double blind peer review. The series concentrates on propositions in both medieval English and French. Potential editors are strongly advised to contact the general editor in the first instance before making a submission: Stephen.Morrison@univ-poitiers.fr.
Fondée en 2004, la collection Textes vernaculaires du Moyen Âge veut répondre aussi bien aux besoins des chercheurs et qu'à ceux des étudiants. Elle offre en premier lieu des textes jusqu'ici inédits et/ou peu étudiés, qui restent par conséquent inconnus ou insuffisamment connus par la communauté académique. Tout type de la littérature vernaculaire est pris en considération : textes littéraires, écrits historiques, y-inclus des chroniques, traités de dévotion, sermons, traités scientifiques, etc. La collection accueille également des éditions de textes mieux connus, accompagnées d'une traduction moderne, ayant pour but de rendre accessible ces textes à ceux qui n'ont pas l'occasion de les lire dans la langue source.
Chaque édition offre une description du texte source, du manuscrit ou de l'incunable et est accompagnée de notes et d'un glossaire compréhensif. Chaque projet est soumis à une évaluation par les pairs (en simple ou double aveugle). La collection se concentre sur des propositions en moyen anglais et en ancien et moyen français. Des éditeurs qui aimeraient contribuer à la collection sont priés de prendre contact avec le directeur (Stephen.Morrison@univ-poitiers.fr) avant de soumettre un projet.
EDITORIAL BOARD

Collection dirigée par / General editor
Stephen Morrison, Centre d'Études Supérieures de Civilisation Médiévale, Université de Poitiers

Comité scientifique / Advisory Board
Alexandra Barratt, Université de Waikato, Nouvelle Zélande
Daron Burrows, Université d'Oxford, Royaume-Uni
Vittoria Corazza, Université de Turin, Italie
Irma Taavitsainen, Université de Helsinki, Finlande
Alessandro Vitale-Brovarone, Université de Turin, Italie
Annette Volfing, Université d'Oxford
AUTHOR INFORMATION

Langues principales: français, anglais

Tous les volumes parus dans cette collection ont été évalués uniquement sur base d'aspects académiques, par un Comité de Rédaction qui fonde son opinion sur des rapports rédigés par des critiques, étant des spécialistes dans le domaine. Le Comité de Rédaction garantit que l'appréciation est faite d'une manière indépendante, sans conflit d'intérêts. Le Comité de Rédaction ne prendra pas décision definitive quant à la publication que lorsqu'elle aura revu le dernier état du manuscript.

Directives d'auteurs à appliquer : https://www.brepols.net/permalink/directives-auteurs-fr

Brepols general stylesheet can be found at: https://www.brepols.net/permalink/stylesheet-full-refs

Les manuscrits seront envoyés à l'équipe éditoriale:
Université de Poitiers CNRS - CESCM
Ctre d'études de Civilisation Médiévale
Professeur Stephen Morrison
24 rue de la Chaîne
86022 POITIERS
FRANCE