Details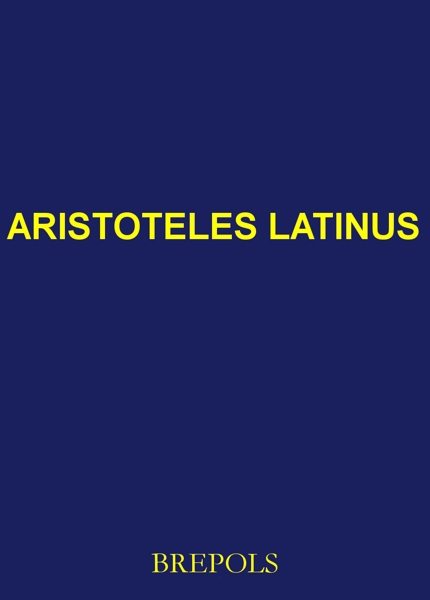 List of Publications
ISSN 1381-561X
Method of peer review
for more information contact the Editorial Board
Keywords
Aristoteles Latinus, Printed Edition, Aristotle, Critical editions, Latin translations, Manuscript studies, Philosophy, Metaphysics, Ethics, Middle Ages, Reception, History of Science
ABOUT
The critical edition of all medieval Greek-Latin translations of Aristotle is one of the main projects supervised and supported by the International Union of Academies (UAI). Its most important objective is to bring to evidence the various forms in which Aristotle's texts came to be read in the West. The Latin versions of these texts constituted the main tools for the study of science and philosophy in the Middle Ages. They were considered as being the canonized littera to which all the commentaries on Aristotle's works referred. The role played by these translations in the development of Western philosophical and scientific terminology can thus hardly be overestimated.
The Aristoteles Latinus collection meets the highest standards for critical editions of medieval texts. An international board is responsible for its scientific value. The editions are based on extensive collations of the manuscripts. Each volume contains a detailed description of the manuscript tradition of the edited text, together with a study of its origin, its Greek model, and its medieval reception. The relation between the Greek text and the Latin translation, as well as the textual variants within the Latin tradition, is evidenced in the double critical apparatus. The correspondence between the Greek and Latin terminology is demonstrated by means of a complete Greek-Latin and Latin-Greek index.
EDITORIAL BOARD

editioni curandae praesidet
Carlos Steel

seriem moderatur
Lisa Devriese

cooperante
Pieter De Leemans†

Members of the Editorial Board:
L. Devriese (director), S. Ebbesen, A. Oliva, M. Rashed, C. Steel, L. Sturlese, A. Van Oppenraay, O. Weijers.