Browse other
JOURNAL
Semitica et Classica
Revue Internationale d'Etudes Orientales et Méditerranéennes - International Journal of Oriental and Mediterranean Studies
Details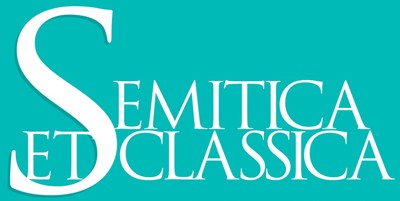 View online content
List of Publications
Print ISSN: 2031-5937
Online ISSN: 2295-9041
Frequency:
1 issue/year
Method of peer review
double-blind undertaken by (a) specialist member(s) of the Board or (an) external specialist(s)
Keywords
semitica, et, classica
Accepted Language(s):
German, English, French, Italian
ABOUT
Semitica et Classica, International Journal of Oriental and Mediterranean Studies, led by specialists in Eastern Mediterranean studies, philologists, archaeologists, epigraphists, philosophers, historians and linguists is directed to researchers with a particular interest in these areas of learning. The journal publishes work related to the interaction between the classical and Oriental worlds from the second millennium B.C.E. to the early centuries of Islam. The cultural area covered by the journal stretches from the western Mediterranean to the Middle East and includes Europe, Africa, and Asia up to and including the Arabian peninsula.
Semitica et Classica, Revue Internationale d'Etudes Orientales et Méditerranéennes animée par des spécialistes de l'Orient méditerranéen, philologues, archéologues, épigraphistes, philosophes, historiens et linguistes, s'adresse à un public de chercheurs intéressés par ces domaines. Elle publie des articles et travaux ayant trait aux rapports et influences réciproques entre mondes classiques et orientaux depuis le second millénaire avant l'ère chrétienne jusqu'aux premiers siècles de l'Islam. L'aire culturelle concernée s'étend de la Méditerranée occidentale au Moyen-Orient et inclut donc l'Europe, l'Afrique et l'Asie jusqu'à la péninsule Arabique.
Online content: http://www.brepolsonline.net/loi/sec
EDITORIAL BOARD

Directrice
Maria Gorea

Comité de Rédaction
Cécile Dogniez
Renée Koch Piettre
Francesco Massa
Hedwige Rouillard-Bonraisin

Comité Scientifique
Véronique Boudon-Millot, Cnrs
Françoise Briquel Chatonnet, Cnrs
François Bron, Ephe
Matthieu Cassin, Cnrs
Iwona Gajda, Cnrs
Robert Hawley, Ephe
Philippe Hoffmann, Ephe
Maria Grazia Masetti Rouault, Ephe
Brigitte Mondrain, Ephe
Olivier Munnich, Université Paris-Sorbonne
Laïla Nehmé, Cnrs
Madeleine Scopello, Cnrs – Ephe
Arnaud Sérandour, Ephe
Vincent Zarini, Université Paris-Sorbonne
Maria Giulia Amadasi Guzzo, Rome
Alessandra Avanzini, Bologne
Florentino García Martínez, Louvain
Arie van der Kooij, Leyde
Michael Lecker, Jérusalem
Michel al-Maqdissi, Damas
Herbert Niehr, Tübingen
Gregorio del Olmo Lete, Barcelone
Sergio Ribichini, Rome
Benjamin Sass, Tel Aviv
Shaul Shaked, Jérusalem
David Taylor, Oxford
Peter Van Nuffelen, Gand
Juan Pablo Vita, Madrid

Comité de Patronage
Pierre Tallet, Paris, Directeur de l'UMR « Orient & Méditerranée », Président
Monique Alexandre, Paris
Nicole Belayche, Paris
Jean-Claude Cheynet, Paris
Gilles Dorival, Aix-Marseille
Mohammed Fantar, Tunis
Natalio Fernández Marcos, Madrid
Israel Finkelstein, Tel Aviv
Jean-Luc Fournet, Paris
Hani Hayajneh, Amman
Bernhard Lang, Paderborn
Mario Liverani, Rome
Dennis Pardee, Chicago
Émile Puech, Jérusalem
Christian Julien Robin, Paris
John Scheid, Paris
Guy Stroumsa, Jérusalem
Michel Tardieu, Paris
Julio Trebolle Barrera, Madrid
AUTHOR INFORMATION

Déclaration d'éthique pour les revues de Brepols : https://www.brepols.net/ethics

Les contributions et les livres pour comptes rendus sont à adresser à :

Maria Gorea
Mondes sémitiques - UMR 8167
CNRS Délégation Paris A
27, rue Paul-Bert
F-94200 Ivry-sur-Seine
e-mail : maria.gorea33(at)gmail.com

Les articles adressés à la Directrice sont soumis au comité de lecture et à une expertise doublement anonyme.
RANKING & INDEXING

ERIH PLUS - European Index for the Humanities and Social Sciences

Index Islamicus

Index Religiosus

Index Theologicus (IxTheo)

International Bibliography of Humanism and the Renaissance

International Medieval Bibliography

L'Année philologique

____________________________________________________________________________________________________________________________________

ANVUR

CIRC (C Classification in human sciences)

Excellence of Research in Australia (ERA) journal list 2018, ARC