Details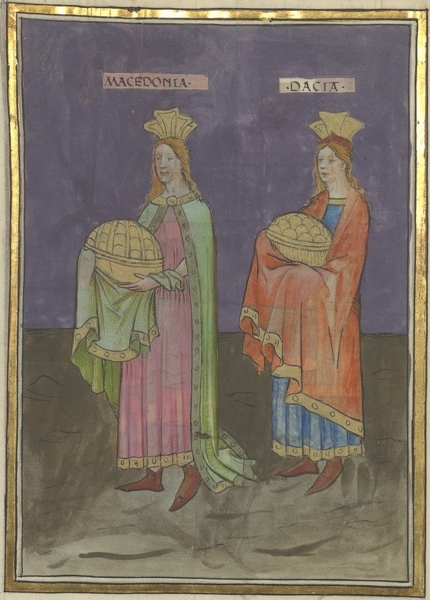 View online content
List of Publications
Method of peer review
double-blind undertaken by a specialist member of the Board or an external specialist
Keywords
Archéologie classique, Archéologie chrétienne, Archéologie tardo-anitque, Histoire antique, Histoire tardo-antique, christianisme, Empire romain, Empire proto-byzantin, Provincialisation, Europe centrale, Europe orientale, IIIème siècle av.J.-C. - VIIIème siècle ap.J.-C.
Accepted Language(s):
English, German, French, Italian, Spanish
Accepts Contributions in Open Access

ABOUT
This multilingual and interdisciplinary series provides an exciting forum for research into the archaeology, history, and art history of the Danubian world and Balkan Peninsula. Covering a period that begins at the end of the 3rd century BC with the expansion eastwards of the Roman Republic and the conquest of Illyria, and continues up to the confirmation of the 'barbarian' hegemonies in the Balkans in the 8th century AD, the RomA series encourages the publication of innovative research into a part of Europe that both underwent, and was central to, many major evolutions and changes. Volumes in the series are thus of interest to Roman specialists, as well as to scholars of the Early Byzantine and Medieval world. The broad geographical focus of the series is on an area comprising the Danubian provinces of the Roman empire, from present-day southern Germany to eastern Romania, together with the neighbouring central Balkan provinces; but research that explores wider cultural contact with surrounding regions including Italy, Epirus, Achaia, and Tauric Chersonese is also encouraged.
EDITORIAL BOARD

General Editor

Dominic Moreau, Université de Lille
dominic.moreau@univ-lille.fr

Co-Editors

Orsolya Heinrich-Tamáska, Leibniz-Institut für Geschichte und Kultur des östlichen Europa (GWZO)
orsolya.heinrich-tamaska@leibniz-gwzo.de

Florian Matei-Popescu, Institutul de Arheologie "Vasile Pârvan"
florian.matei@gmail.com

Patrons of Honour

Jim Crow, University of Edinburgh
Renate Pillinger, Universität Wien

Editorial and scientific board:

Irina Achim, Institutul de Arheologie "Vasile Pârvan"
Nicolas Beaudry, Université du Québec à Rimouski
Alenka Cedilnik, Univerza v Ljubljani
Pascale Chevalier, Université Clermont Auvergne
Florin Curta, University of Florida
Dan Dana, CNRS, UMR 5189 - HiSoMA
Cristian Găzdac, Universitatea Babeș-Bolyai
Christophe J. Goddard, CNRS, UMR 8546 - AOrOc
Hrvoje Gračanin, Sveučilište u Zagrebu
Vujadin Ivanišević, Arheološki institut, Beograd
Olga Karagiorgou, Akadīmia Athīnōn
Slavtcho Kirov, La Rochelle Université
Péter Kovács, Pázmány Péter Katolikus Egyetem
Lucreţiu Mihailescu-Bîrliba, Universitatea "Alexandru Ioan Cuza" din Iași
Albena Milanova, Sofiyski universitet "Sveti Kliment Ohridski"
Andrew Poulter, University of Nottingham and University of Birmingham
Ivan Radman, Arheološki muzej u Zagrebu
Efthymios Rizos, Eforeía Archaiotī́ton Serrṓn
Nikolay Sharankov, Sofiyski universitet "Sveti Kliment Ohridski"
Saimir Shpuza, Instituti i arkeologjisë (ASA)
Carolyn Snively, Gettysburg College
Roland Steinacher, Universität Innsbruck
Alessandro Teatini, Università degli Studi di Sassari
Lyudmil Vagalinski, Natsionalen arheologicheski institut s muzey (BAN)
Catherine Vanderheyde, Université de Strasbourg et Université Libre de Bruxelles
Andrey Vinogradov, Nacionalʹnyj issledovatelʹskij universitet «Vysšaâ škola èkonomiki»
Nelu Zugravu, Universitatea "Alexandru Ioan Cuza" din Iași
AUTHOR INFORMATION

Main Language: English
Additional Languages: French, German, Italian, Spanish

Double-blind undertaken by a specialist member of the Board or an external specialist

All volumes in this series are evaluated by an Editorial Board, strictly on academic grounds, based on reports prepared by referees who have been commissioned by virtue of their specialism in the appropriate field. The Board ensures that the screening is done independently and without conflicts of interests. The definitive texts supplied by authors are also subject to review by the Board before being approved for publication.

Tous les volumes parus dans cette collection ont été évalués uniquement sur base d'aspects académiques, par un Comité de Rédaction qui fonde son opinion sur des rapports rédigés par des critiques, étant des spécialistes dans le domaine. Le Comité de Rédaction garantit que l'appréciation est faite d'une manière indépendante, sans conflit d'intérêts. Le Comité de Rédaction ne prendra de décision définitive quant à la publication que lorsqu'elle aura revu le dernier état du manuscrit.

A detailed stylesheet for RomA can be found at:
https://danubius.huma-num.fr/en/roma-series/

Consignes éditoriales à appliquer pour la collection RomA :
https://danubius.huma-num.fr/collection-roma/

Submissions should be sent to / Les propositions de publication doivent être envoyées à :
Rosie Bonté, Brepols Publishers
rosie.bonte@brepols.net