Details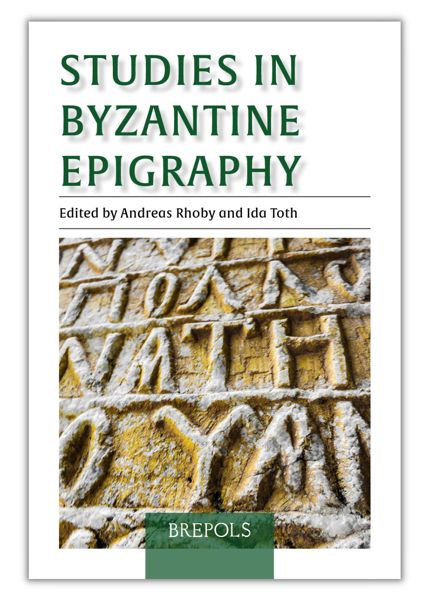 View online content
List of Publications
Method of peer review
single-blind undertaken by a specialist member of the Board or an external specialist
Keywords
Epigraphy, Text, Greek, Latin, Oriental Languages, Byzantium, Mediterranean, Late Antique, Medieval, 4th-15th c. AD, Italy, Caucasus, Middle East, Northern Africa, Asia Minor, Central, East- and South-Eastern Europe
Accepted Language(s):
German, English, French, Italian
ABOUT
It is well known and widely acknowledged that many aspects of ancient Greek and Roman civilization can be accessed only through inscriptional source material. Administrative and legislative actions, and the acts of beneficence, commemoration, and thanksgiving all depended for their promulgation on publically displayed and highly visible epigraphs. Such traditions continued throughout Late Antiquity, a time during which inscriptions still functioned as official announcements as well as becoming the most effective means of confessing, expressing and spreading the new religion endorsed by the Roman State - Christianity. Even after Late Antiquity (ca. AD 600), inscriptions persisted as regular features of Byzantine written culture until, as well as beyond, the fall of the Empire in 1453. Although there was some decline in the production of stone and mosaic inscriptions, new epigraphic media were employed, such as, for example, monumental fresco inscriptions in churches and epigrams on movable objects.
We envisage that our series would include collective volumes devoted to specific epigraphic themes, such as, authority, display, self-representation, patronage, etc.
In our capacity as editors, we would especially encourage contributions from specialists exploring new avenues of research, and setting agenda for the future of the discipline. Our aim is to create an outstanding academic resource, which would showcase the significance of Byzantine Epigraphy as an academic discipline opening the field to scholars in related disciplines, such as history, art history, and literature, and reaching out to include a wider readership in both Byzantine and, more generally, classical, medieval, and early modern studies.
EDITORIAL BOARD

Advisory Board:

Thomas Corsten (University of Vienna, Austria)
Salvatore Cosentino (University of Bologna, Italy)
Ivan Drpić (University of Pennsylvania, Philadelphia, USA)
Antony Eastmond (The Courtauld Institute of Art, London, UK)
Denis Feissel (Collège de France, Paris, France)
Antonio E. Felle (University of Bari, Italy)
Sophia Kalopissi-Verti (University of Athens, Greece)
Fatih Onur (Akdeniz University, Antalya, Turkey)
Charlotte Roueché (King's College, London, UK)
Andrey Vinogradov
AUTHOR INFORMATION

Main Language: English

Additional Languages: French, German. Italian

Peer review: Single-blind undertaken by a specialist member of the Board or an external specialist

All volumes in this series are evaluated by an Editorial Board, strictly on academic grounds. based on reports prepared by referees who have been commissioned by virtue of their specialism in the appropriate field. The Board ensures that the screening is done indepenlently and without conflicts of interest. The definitive texts supplied by authors are also subject to review by the Board before being approved for publication.

Brepols general stylesheet can be found at: https://www.brepols.net/permalink/stylesheet-full-refs

Submissions should be sent to:

PD Dr Andreas Rhoby, andreas.rhoby@oeaw.ac.at
Austrian Academy of Sciences, Institute for Medieval Research, Division of Byzantine Research, Hollandstrasse 11-13/4, A-1020 Wien, Austria

Dr Ida Toth, ida.toth@history.ox.ac.uk
University of Oxford, Faculty of Classics, Ioannou Centre for Classical & Byzantine Studies, 66 St Giles', Oxford, OX1 3LU, United Kingdom