Journals Price List 2024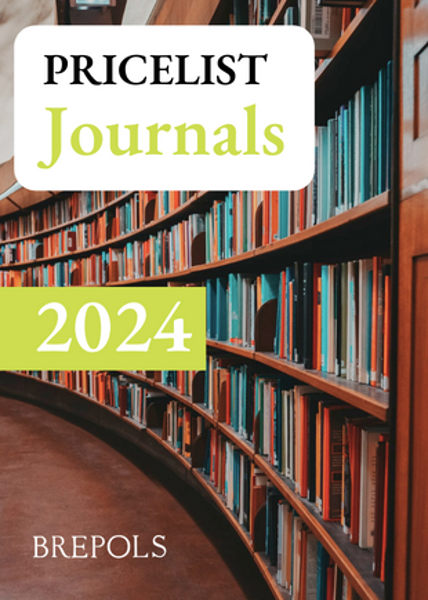 We would like to take this opportunity to give you an overview of the most important changes:
2024 New Journals
American Journal of Numismatics
AJN will be distributed by Brepols outside North America from 2024 onwards. First issue distributed by Brepols: AJN 36 (2024). Vols. 33 (2021), 34 (2022) and 35 (2023) should be ordered separately.
Annuaire-Bulletin de la Société de l'Histoire de France
Brepols will take over the distribution of the Annuaire-Bulletin of the Société de l'Histoire de France. First issue available from Brepols: ABULL 2023 (Publ. 2024)
2024 Open Access
Teresianum
From 2024 onwards Teresianum will be available in Open Access only.
2024 Subscribe-to-Open
Centaurus
The 2024 issues of Centaurus [CNT 66/1-2-3-4 (2024)] will continue to be published in Diamond Open Access via the Subscribe-to-Open publishing model. Reduced subscription prices until 31 March 2024.
Other changes
From 2024 onwards the Journal of Urban Archaeology (JUA) will no longer be available in Open Access.
The Bibliographie Annuelle du Moyen Âge Tardif (BAMAT) has ceased to be published as a print journal. BAMAT 33 will be published early 2024 as part of the 2023 subscription. The bibliography will continue to be published as an online database hosted on www.brepolis.net. Contact us to transfer your journal subscription to a database subscription.
Le moyen français (LMFR) will publish 1 issue per year instead of 2 from 2024 onwards.
Journal Archives
We remind you that a 2024 print & online or online subscription includes online access to the 10 most recent years. If you wish to acquire perpetual access to the complete backlist of a journal (up till 2016), we recommend you to purchase the online archive of that journal (if available).
'Diamond' Open Access
With this model, a journal is usually fully funded by one or more learned societies or institutes. The journal is therefore free both for authors to publish and for readers wishing to access the texts. You can publish Open Access in the following Brepols' journals without a fee: Journal of the Alamire Foundation (supported by the Alamire Foundation); Journal for the History of Environment and Society (supported by Ghent University); ARWA (supported by the International Association for Archaeological Research in Western & Central Asia and the University of Warsaw); Euphrosyne. Journal for Classical Philology (supported by the Portuguese FCT-Foundation for Science and Technology)